There are many different ways of trading. Traders can choose, among others, to follow the trend, observe the colors of candles on the chart or use Price Action Trading.
Let's take a closer look at this latest guide. While price action trading is usually associated with currency trading, it can be successfully applied in any other market.
Price action review
Price Action is nothing like a trading technique. The essential component of this technique is the asset price. Traders read the chart and make a decision based primarily on the current price of the asset. They are convinced that this is the most valuable information needed to make a transaction. Sometimes they even believe, this is the only one needed, so they don't use extra help from indicators.
Reason for price action
The biggest advantage is that in Price Action trading you don't need to complicate the chart with multiple indicators. You just need to focus on the actual price.
Those involved with Price Action claim that markets are predictable, there is nothing that didn't exist before. History likes to be repeated. So the price will fluctuate within some range. Taking into account the above, Price Action traders can predict the price behavior at a given time.
Therefore, they will look for patterns that repeat themselves. And they want to answer the question about the direction of the price at a certain point. When they do, their decision can be very accurate.
Price action trading on Quotex
Traders have their preferences about chart types. I think the candlestick chart is the most transparent, but the bar chart will do too. Both contain the same pricing information that is needed to trade successfully. You will distinguish the open, high, low and close price for a given time frame.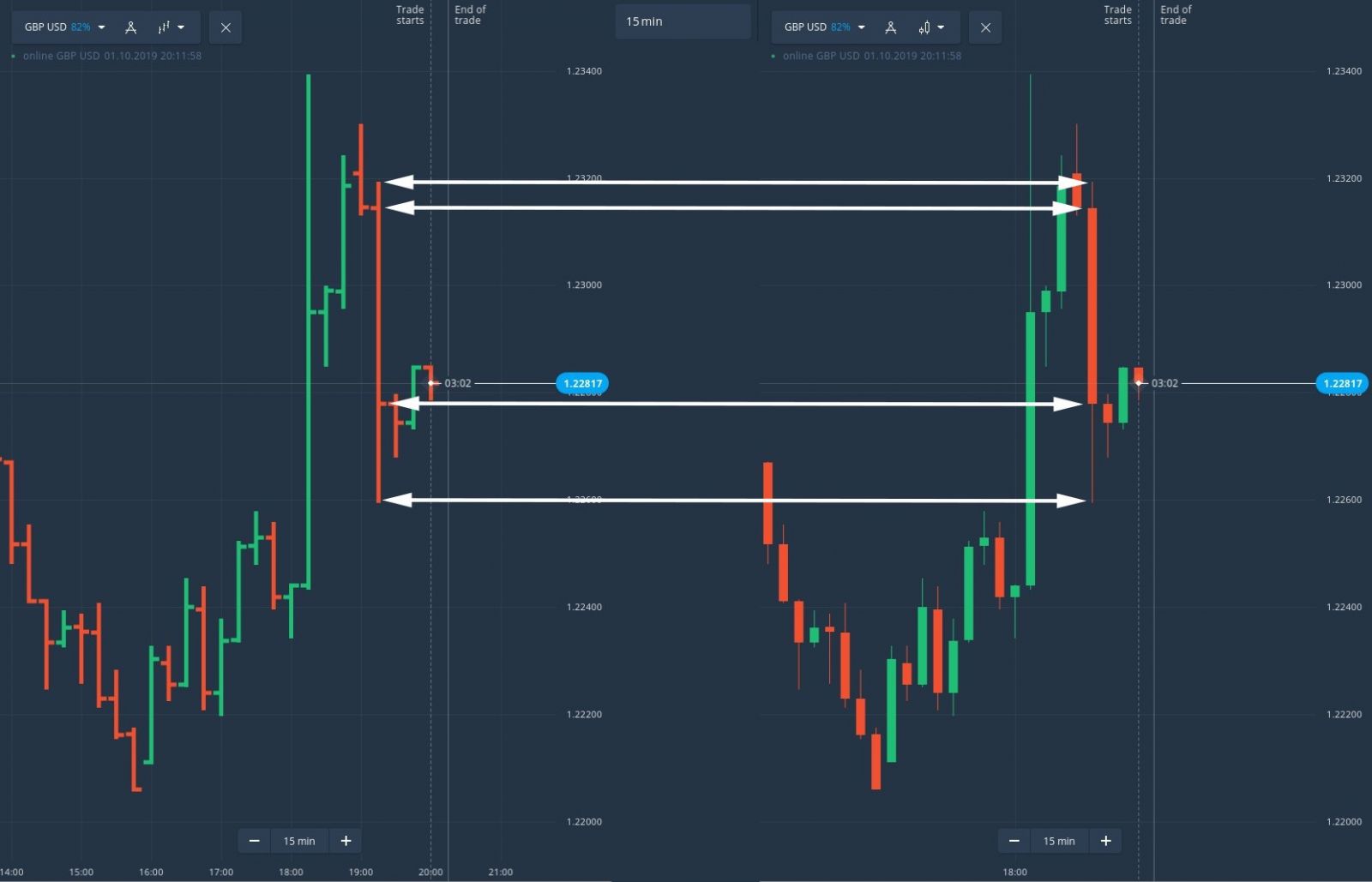 As I already mentioned, Price Action traders do not like additional indicators. The reason for this is mainly the lag of the indicators. However, support and resistance lines can be desirable.
And that's because the price behavior is commonly predictable after the moment of touching the support/resistance level. Here is an example of how the Price Action trader can read the chart. We have a helpline here. You can see how the good price reacts with this level. Number 1 is a bullish pinbar. It is a clear signal to enter a long (buy) position. Number 2 is a bullish candlestick pattern. It is also a signal to buy GBPUSD. It's about reading price behavior, identifying key support and resistance levels, and knowing how to react to repetitive price patterns like candlestick formations.