Support and resistance levels are of great help to traders. Once they are drawn on the chart, of course. And drawing them is not always as easy a task as you might think. Support and resistance, to be reliable, must be marked correctly.
In this article, you will learn some good methods to identify support and resistance levels on the Quotex platform.
The methods I will present are as follows:
Local lows and highs

Various deadlines

moving averages

Fibonacci Levels

trend lines
Local lows and highs
To identify support and resistance levels through local lows and highs, you need to first prepare your chart. Choose the asset, select the time period and look at the chart. Mark the highest peak and lowest bottom. ATH will be the first – the all-time high. ATL will be the second extreme – the All Time Low.
The next step is to mark all peaks and all troughs on the chart. In an uptrend, they will be called higher lows (HL) and higher highs (HH). During a downtrend, there will be lower highs (LH) and lower lows (LL).
Each horizontal line that marks lows and highs also serves as support or resistance.
Let's look at the graph. During an uptrend, HLs represent support levels and HHs represent resistance. During the downtrend, LHs are resistance and LLs are support.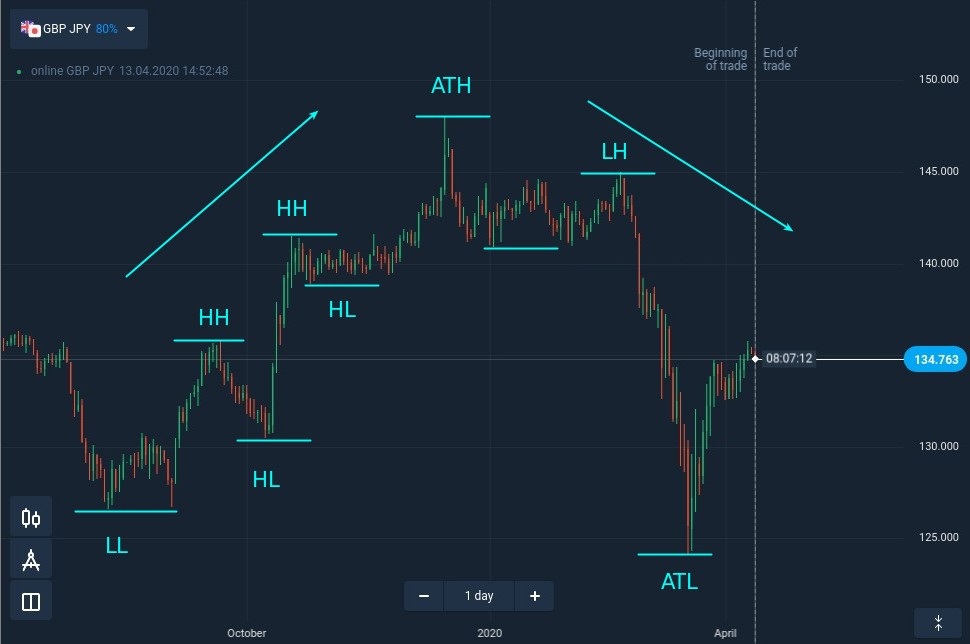 Various deadlines
This method requires you to enter the support and resistance levels of the higher timeframes. When you are trading on a 15 minute time frame, check the support/resistance in the 1 hour time frame. Tick the levels. Then go to the 4 hour time frame and place the levels there on your 15 minute chart.
Levels are much stronger when the support/resistance of the higher timeframes matches that of the lower timeframes.